The Home Depot Pro Institutional is the leading national provider of integrated facility maintenance solutions. Offering a large assortment of janitorial, maintenance and hardware products, and backed by the power of The Home Depot, we serve a wide array of customers, including offices, schools and universities, and health care institutions.
NEW Exclusive RYOBI® Electrostatic Sprayers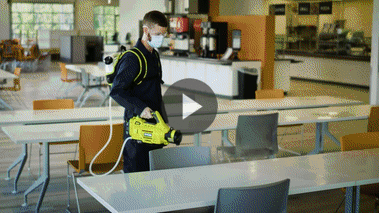 ---
Prepare for Return to School
From touch-free products to personal protective equipment, The Home Depot Pro Institutional has what you need to prepare your learning environment for the return of students. View more resources.
---
Severe Weather Preparedness
Download the Severe Weather Checklist and look for essential products to help you prepare for severe weather preparation or cleanup. View more resources.