Business Solutions to Help You Reduce Cost and Increase Maintenance Efficiency
StockWise® Inventory Management Solutions are designed to help you organize, manage and replenish products easier and faster. Our suite of solutions are easily customized to fit your unique inventory requirements. Our representatives can work closely with you and your team to find the programs that best fit your needs.
Product Identification: Work with your Home Depot Pro Sales Professional or visit our website to determine the most important products for all of your stocking locations, including stockrooms, trucks and warehouses. This is the first step toward maintaining the right product mix and building your just-in-time inventory replenishment.
Bin Labels: Organize your inventory and easily access products with our free online Bin Labels tool. Each color-coded label includes the product's part number, description, image and barcode for quick and intuitive identification.
Truck Stock Replenishment: Our just-in-time, truck-level specific inventory management programs ensure that you maintain the right product mix and the required inventory levels on your service and repair trucks. Receive accurate records of daily product usage and standardize products across your fleet.
Shop Management Program (SMP): This program is designed for any size customer looking to improve their inventory efficiencies through organization and technology. Special racks and bin boxes help you control your stocked products.
Pre-Positioned Inventory (PPI): Increase your cash flow, reduce upfront costs, stock more high-ticket items and carry more products with our consignment program. Eliminate carrying costs by only paying for the products you use.
Vendor Managed Inventory (VMI): Our VMI solution allows you to focus on your core business while we handle your inventory. This comprehensive program includes the installation of infrastructure and a full-time employee on-site to manage your stock and reduce your costs.
Mobile Scan to Order: Our free mobile app includes all of the convenient features of our mobile website, plus it enables you to quickly order items by scanning product barcodes on your bin labels or UPC codes on product packaging—all without specialized equipment.
Supplyware®: Accelerate your inventory check-in and checkout process with our comprehensive inventory management system. Supplyware manages inventory min/max levels, provides real-time visibility to your stock levels and usage and automates ordering and replenishment.
Web Tools: We are proud to be your one-stop resource for the key essentials and ultimate business solutions you need. Log in to your account or through our mobile app to gain access to the following:
Personalized Favorites Lists
Custom Catalogs
Workflow Tools
Reporting Tools
Order Status
Tracking Capabilities
NEW Exclusive RYOBI® Electrostatic Sprayers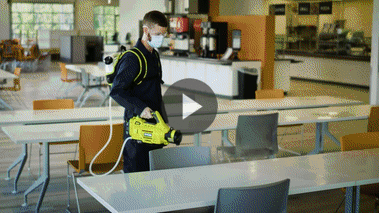 ---
Prepare for Return to School
From touch-free products to personal protective equipment, The Home Depot Pro Institutional has what you need to prepare your learning environment for the return of students. View more resources.
---
Severe Weather Preparedness
Download the Severe Weather Checklist and look for essential products to help you prepare for severe weather preparation or cleanup. View more resources.